The lovely people at Doxy sent me a Wand to test and review which got me so excited as I've never had a plug-in wand to play with before!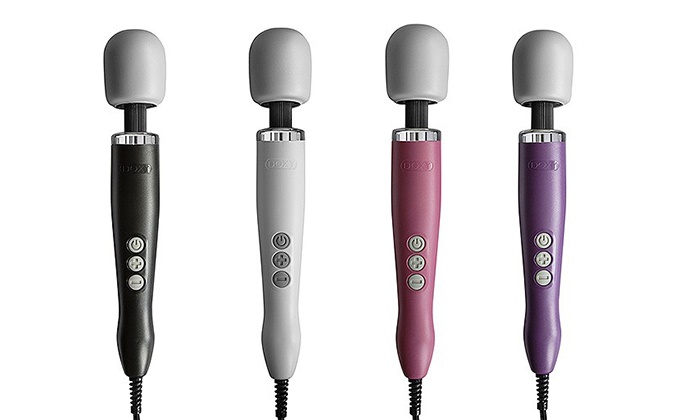 Presentation
The Doxy comes in a cardboard box, safely tucked inside in more cardboard wrapping so it's going to come to you in pristine conditions, whether posted or picked up from a store.
Features
* Variable Speed & Pulse Settings
* Long Power Cord – 3 meters
* Made from ABS / Silicone / Aluminium / PVC
* Standard Wand Head Size to fit Standard Wand Attachments
* Soft Silicone Head for Comfortable Massaging
* For use for Sexual Massages and Non-Sexual Massages
The Doxy & Us
We started our playtime with a sensual, oily, massage, using hands at first we then progressed to teasing each other with the Wand, moving onto more sexual stuff, we incorporated the Wand, a good bit of Doggie-style and Hubby held the Wand against my vulva while he thrusted from behind, it was mere moments before I came, as he loved that, he kept holding it against me, finally begging for mercy he removed it and I came again! Lol so mind-blowing 🙂 Has to be tried as it's like nothing I've ever tried before and really cannot over-state how strong it feels!
Round-Up
This is a seriously intense bit of kit! Being plugged into the wall and powered by electricity this is one hellava powerful vibrator. An excellent item for massaging the vulva, back, and any muscles of the body. All you need to do is plug it in and it's ready to go. There are a host of speeds and settings to go through, all of which are fantastic to experiment and play about with. The Wand has super easy to control buttons so you are able to change speed/pulse extremely easily.
It's seriously strong, the power behind it cannot be overstated! We love playing with ours and have used it many times since we got it; it's especially great for back massages.
Check out our range of Doxy Wands by clicking here 🙂
Have fun!
Love,
Jenna ❤